Opening hours
 Monday.-friday. kl. 09-17
Keysers gate 5
CEO
Johan Lothe
johan@wayback.no
41 58 26 60
23 22 80 10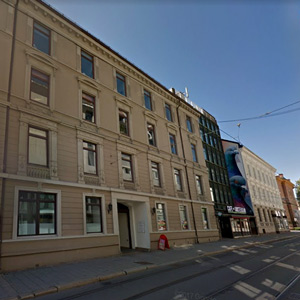 ABOUT WAYBACK OSLO
WayBack Oslo is the head office and local branch for members in Oslo and the surrounding area.
We are located at Keysers gate 5 in Oslo. This is a great meeting place for our members and contains both offices, activity rooms, kitchen, TV room and lending of computers.
As a WayBack member, you can use the WayBack house on a daily basis. Here you can use the phone and PC for necessary tasks, attend Monday dinners and other events. We facilitate a lifestyle change, but it is crucial that you yourself want to take responsibility for your own development.
WayBack supports the individual in their efforts to take their life back. A place to live, money for basic needs, a network and meaningful activities in everyday life such as school and work are important and fundamental areas for all people. Changing one's life and starting over is a long learning process.
In WayBack, you are seen as like-minded, you matter, you are somebody. This is a community of people where many have been through the same thing. Our special expertise is that we can understand better than most how the inmate and released person are doing, and what is needed to cope.
Warning: Trying to access array offset on value of type bool in /customers/3/4/e/wayback.no/httpd.www/wp-content/themes/elision/vc_templates/vc_parallax_section.php on line 23
YOUR CHOICES – YOUR FREEDOM – YOUR RESPONSIBILITYALG
ACTIVITY CALENDAR FOR WAYBACK OSLO
SUPPORT US WITH YOUR GRASS ROOT SHARE!
Become a grass root donor today! You can become a grassroots donor in all Norsk Tipping's channels or by sending SMS "Grasrotandelen 984300964" until 2020.